Aiwha Squad is/was a squad of Republic Commandos (or Clone Commandos) during the Clone Wars Era.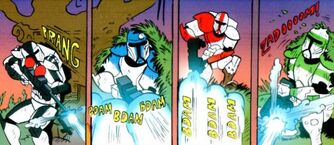 Aiwha Squad began as a squad of specialized Clone Troopers who eventually were promoted to Republic Commandos after being the final troops surviving a large battle.
Once they became Republic Commandos, they distinguished themselves with unique nicknames, markings, weapons, datapacks, and hair-styles. As well as being assigned to several missions during the end Clone Wars.
Notable Members
Edit
Sarge (RC-1013)
Zag (RC-2088)
Di'kut
Tyto
Appearances
Edit
Star Wars Clone Wars Adventures "Orders"
Trivia/Facts
Edit
It is unknown if the squad is canon, because of the fact that Republic Commando training was discontinued during the middle of the Clone Wars Era, and replaced with basic specialized training.