Bio/History
Edit
Sketch is/was a Standard Phase 1 Clone Trooper who was assigned to Battalion Sergeant Slick's platoon in the 212th Attack Battalion.
Very little is known about Sketch, and has only appeared
on-screen
in the Clone Wars episode "Hidden Enemy".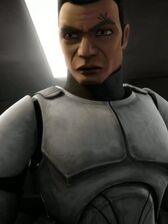 Appearance
Edit
Sketch wears Standard Phase 1 Clone armor, while his facial appearance consists of having a "high-fade" haircut with long sideburns and a letter "S" tatoo written in Aurebesh on the right-side of his forehead. (To distinguish himself from other Standard Clone Troopers.)
Trivia/Facts
Edit
Sketch is one of the very first Clone Troopers to have sideburns. (Aside from Punch and Jester.)
Appearances
Edit
Star Wars: The Clone Wars "Hidden Enemy"
Star Wars: The Clone Wars Character Encyclopedia
Star Wars: The Clone Wars "Shadowed" web-comic