Thire (CC-4477) was an Elite Clone Officer (later Veteran) who was originally under the rank of Lieutenant and served as the leader of the Coruscant Escort Group, and eventually became one of Darth Sidious' prized Imperial Shocktrooper Commanders for the 501st Legion.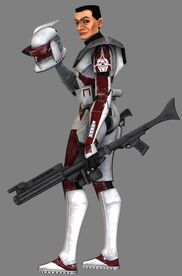 Thire began as a Lieutenant for the Coruscant Escort Group with Commander Stone during the middle of the Clone Wars Era; to whom they led their own platoons of Clone Troopers while escorting Jedi and Senators on political missions. He often served as a bodyguard, to whom he helped protect Jedi Master Yoda with his fellow partners Rys and Jek.
He eventually became a Commander for the Senate Security, and worked alongside Captain Fordo during the end of the Clone Wars Era. As well as the leader for the 501st Legion's Coruscant garrison of Shocktroopers for the Imperial Security.
Appearance
Edit
Thire's Phase 1 Armor consists of having red markings with the Rebublic's 'government' emblem, as well as having a grey pauldron, blaster pistol holsters, and a pair of red microbinoculars.
His Phase 2 Armor consists of having the Phase 2 markings for the Rebublic Security and Imperial Security, only with a pauldron and kama with blaster pistol holsters.
His facial appearance consists of having the standard "high-fade" haircut that most Clone Troopers (including Jango Fett) have, only with patches of grey hair and eyebrows.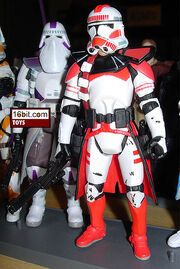 Trivia/Facts
Edit
Thire is often mistaken for Commander Fox.
He is often mistaken for one of the standard Imperial Shocktroopers or Rebublic Security Clone Troopers seen in Revenge of the Sith.
Appearances
Edit
Thire first appeared in the Star Wars: Rebublic comic book series by Darkhorse Comics, and eventually appeared in the Clone Wars series during the Season 1 pilot or premeire episode.

Star Wars Episode III: Revenge of the Sith (First Appearance)
Star Wars: Republic (comic series)
Star Wars: The Clone Wars "Ambush"
Star Wars Episode III: Revenge of the Sith comic
Star Wars Episode III: Revenge of the Sith junior novel (First confirmed appearance)